Ranger Studios
The Ranger 4 studio suitcase is a self contained studio system that is ready for immediate use.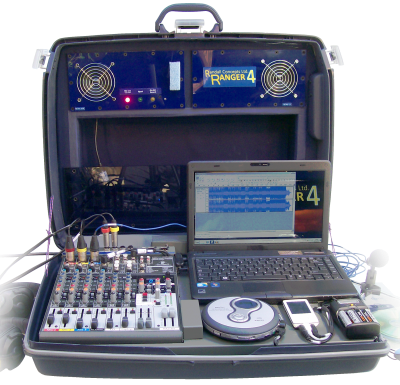 It can be supplied with a variety of different recorders and players to adapt it to users' requirements. It can be supplied with different recorders and players, headsets and microphones. The interfaces for the recorders and players are modular and can be changed in the field if users need to update their system to work with different machines.
Options and Accessories
A range of options and accessories are available, most of which are powered from the Ranger 4. They include:

Cue lights
Receivers for off-air monitoring
Cell phone, telephone and Skype interfaces for phone-in programmes
Extra recorders and headsets
Work lights powered from the suitcase - self-contained operation when operating from a car battery or generator
Production laptop configured identically to the one in the case so it can be used as a spare
Additional cables and equipment for use with the full disaster response kit
Transformer coupled interfaces to link with PA systems
Interfaces for car modulators and other audio accessories
Hardware codec and comms equipment to link to the radio station via 3G, WiFi or cabled internet connection.
Emergency Response Kit
We supply emergency response kits with additional equipment and cabling to fully equip a team to produce and broadcast programmes in a disaster area. This includes a audio production laptop already networked to the studio laptop fitted with an SMS system and 3G modem for audience relations. An additional recorder, cue lights and work lights, cellphone and interface for phones, off-air receiver, DC power option and all cables needed to connect to the transmitter and other equipment. Please enquire for more details.