About Randall Concepts
Randall Concepts Ltd. exists to provide solutions for community radio and portable studio equipment. We offer the
Ranger series
of portable studio suitcases and a wide range of ancilliary equipment. We specialise in portable broadcast equipment especially for broadcasting in a disaster area.
The Ranger 4 studio in a suitcase was developed from the succesful Chrysolite originally designed and built by Feba Radio. Examples of the Ranger and chrysolite studios in service can be found on our Facebook page.
Randall Concepts Ltd is an entirely independent company with no connection to Feba except to license the design from them. Since then we have been improving and extending the Ranger series to make them suitable for a wider range of users.
Charles Randall
Managing director, Charles Randall, has over 30 years experience in broadcast engineering and was the originator of the concept for these studio suitcases.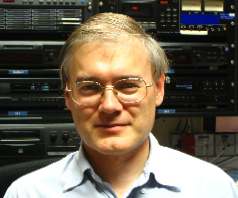 He is an audio and broadcast systems engineer with wide-ranging experience. He worked with
Feba Radio
for 24 years before setting up Randall Concepts Ltd. to build the Ranger suitcase studio and other specialist electronic products.
He began his career with six years as technical assistant to the legendary Rupert Neve and Geoff Watts from whom I gained a solid foundation in mixer design and audio systems. In addition they installed sound systems in some leading churches and ran the Cambridge Radio Course for radio producers.
Charles worked for Feba Radio for 24 years and established their audio engineering team more than 25 years ago. During this time he worked on all aspects of radio and recording studios, designing, building, installing and comissioning systems in many countries especially in the developing world. Where there was no suitable exisiting equipment he designed and built custom equipment to meet the need. He was the lead designer for the Chrysolite Suitcase Studio (the forerunner of our Ranger Studios). He left Feba in 2009 when they discontinued equipment manufacture.
More biographical information is available on LinkedIn profile.
Other Suitcase Studios and Studio Equipment in Suitcases
The phrase
Suitcase Studio
has been used for a variety of goods and services unconnected with us. There is long tradition of packaging broadcast equipment in suitcases,
examples can be seen here
.