Applications
Disaster Response
Community Radio
Startup studios
Temporary or emergency studios
Training and Education
Outside Broadcast & RSLs

Randall Concepts Ltd.
Randall Concepts Ltd
Registered in England,
Company number: 07097322
VAT Registration Number: 983235403
Email: info@randallconcepts.com
Full company and contact details

The Ranger 4 studio suitcase is a self contained studio system that is ready for immediate use. It is ideally suited for:

Emergency and disaster response broadcast
community radio
start-up studios
temporary studios while repairing or replacing permanent studios
broadcast training
outside broadcast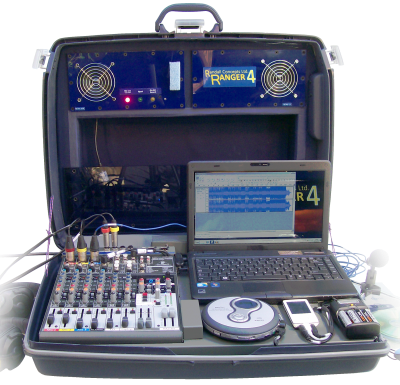 The Ranger series are complete studio systems installed in a suitcase which can be operated with the equipment in the case. They are carefully constructed with the equipment well integrated and pre-configured so it can be used immediately on arrival. The studio systems are complete but additional equipment is available to extend the capabilities of the system.
They are ideally suited for disaster relief, emergency broadcasting, training, start-up studios and radio stations, and as a temporary studio to to replace stolen or damaged equipment. The Ranger and its predecessors have been used in all of these roles in many countries and climates. It is built into a standard suitcase and is designed not to draw attention to itself when travelling. It is highly portable, rugged and easy to use.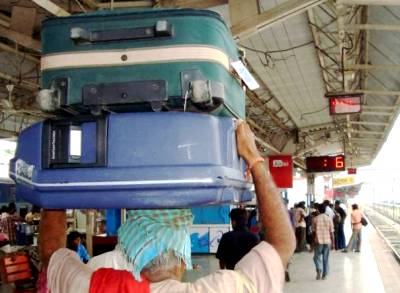 The Ranger 4 is an entry level studio suitcase using a commercial mixer. It is most suitable for programme production and recording, but can also be used for live broadcasting. It has a universal AC supply but a 12V or 24V DC option is available.
A range of options and accessories are available, most of which are powered from the Ranger 4. They include:

Cue lights
Receivers for off-air monitoring
Cell phone, telephone and Skype interfaces for phone-in programmes
Extra recorders and headsets
Work lights powered from the suitcase - self-contained operation when operating from a car battery or generator
Production laptop configured identically to the one in the case so it can be used as a spare
Additional cables and equipment for use with the full disaster response kit
Hardware codec and comms equipment to link to the radio station via 3G, WiFi or cabled internet connection.